---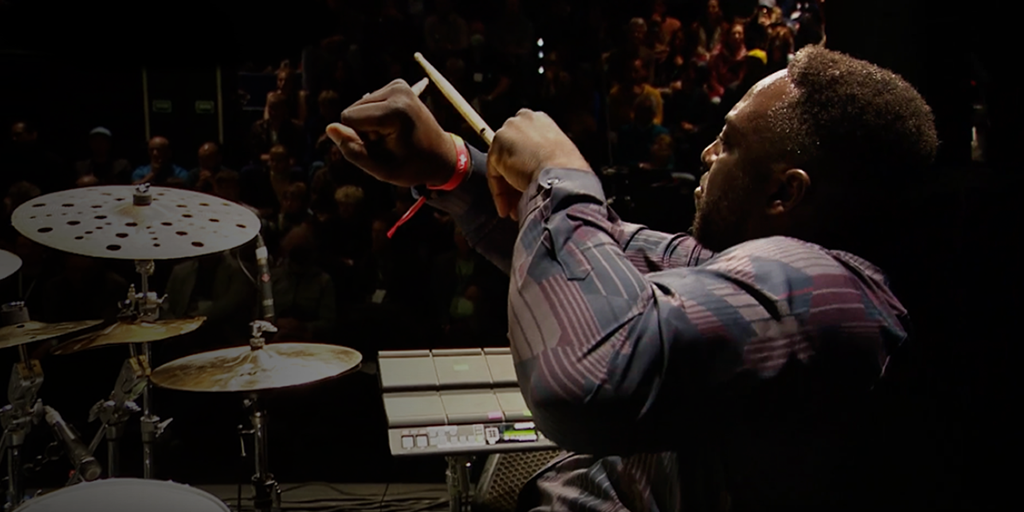 Performance highlights: Canadian jazz artists at Germany's jazzahead!
Photo above: Larnell Lewis
Canadian musicians took centre stage at jazzahead! in Bremen, Germany from April 28 to May 1, 2022 when Canada was recognized as the festival's first-ever overseas partner country. The Canadian delegation represented all facets of our country's jazz scene—from artists and promoters to programmers and cultural organizations. The event was a chance to show the world what Canadian jazz has to offer, with artists straight out of our country's network of clubs and festivals as well as from our diaspora in the United States and Europe.
The Canada Council for the Arts was proud to be the main partner at this year's must-see festival, conference and trade fair. Two trade partner organizations—the Conseil québécois de la musique (CQM) and the Canada Independent Music Association (CIMA)—coordinated the Québec and Canadian delegations in partnership with the Embassy of Canada in Germany.
Please enjoy these performances and share widely!
*********************
Faits saillants : des artistes de jazz canadiens au festival jazzahead! en Allemagne
Les artistes musicaux du Canada ont été au premier plan du festival et de la foire commerciale jazzahead!, qui se sont tenus à Brême, en Allemagne, du 28 avril au 1er mai 2022, dont le Canada était le premier pays partenaire non-Européenne. La délégation canadienne y a représenté toutes les facettes de la scène jazz du pays, que l'on pense aux artistes, aux promotrices et promoteurs, aux responsables de programmations ou aux organismes culturels. L'événement a permis au monde de découvrir la scène jazz du Canada. Les artistes présents étaient issus du réseau canadien de clubs et de festivals spécialisés, mais aussi des diasporas canadiennes installées aux États-Unis et en Europe. Le pays partenaire du Canada à jazzahead ! 2022 a été soutenu par le Conseil des arts du Canada et le Gouvernement du Canada.
Profitez de ces performances et partagez-les largement !
 Canadian Showcase Night jazzahead! 2022 / Soirée de la vitrine canadienne
Audrey Ochoa
Carrier, Lambert, Edwards
François Bourassa Quartet
Larnell Lewis
Itamar Erez Quartet
Marianne Trudel & John Hollenbeck: Dédé Java Espiritu
Silvervest
Steph Richards
Canada's CLUBNIGHT jazzahead! 2022 / Soirée club du Canada
Gordon Grdina's Haram
Josh Zubot Strings
Lina Allemano Four
Nadah El Shazly
Vox Sambou
jazzahead! 2021 virtual edition / Édition virtuelle