---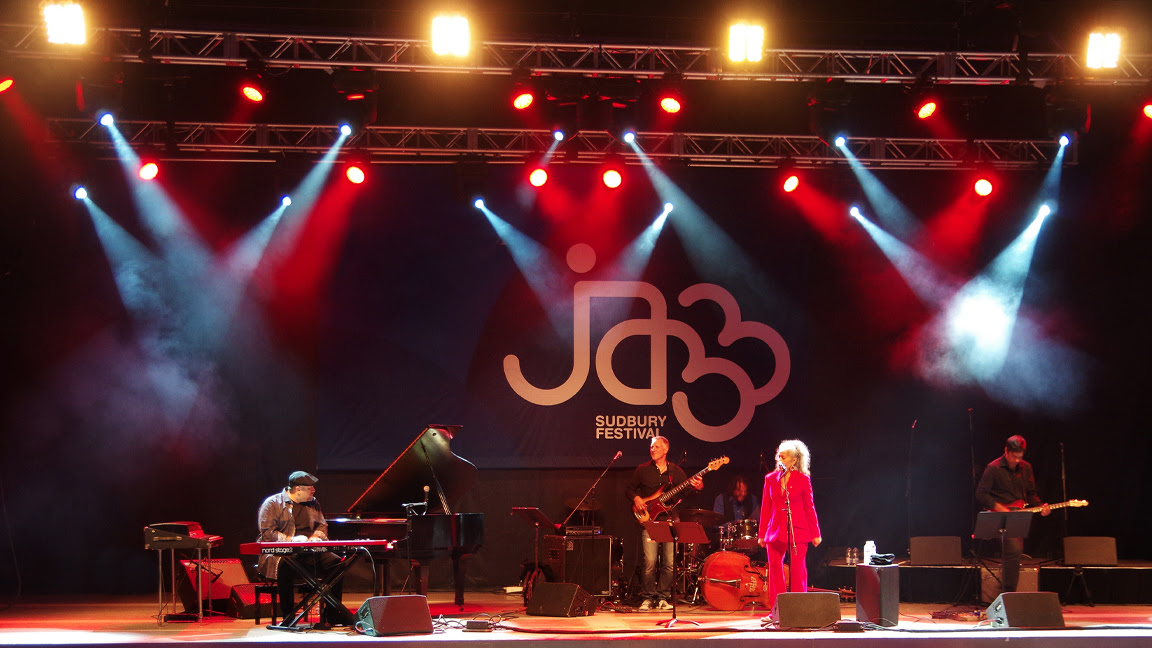 Jazz Sudbury Returns with Live Festival, September 8-10
Jazz Sudbury is getting ready for its 2022 festival, September 8-10. This year's edition of Jazz Sudbury promises to be one of the most remarkable in the festival's 14-year history.
It is the first in-person festival since September of 2019, and the Jazz Sudbury Festival has a new home: Places Des Arts, the stunning, state-of-the-art performing arts centre in downtown Sudbury.
"We are so excited for this year's festival, because it really is a reset for Jazz Sudbury," says Louis Simão, Jazz Sudbury's new Festival Director. In addition to being the festival director, Louis is also an accomplished jazz musician, who relocated to Sudbury from Toronto last year. "We couldn't be happier to have a new partnership with Places Des Arts to host our festival. I think our core audience is going to love the convenience and atmosphere of live jazz at Place Des Arts, and we also believe it will help us attract a new audience. Plus, partnering with Places Des Arts deepens Jazz Sudbury's long-standing commitment to the city's downtown core."
THE ARTISTS
The line-up for the 2022 Jazz Sudbury Festival is an incredible array of local, national, and international talent. Headline performers this year include:
Alex Cuba, winner of the 2022 Grammy Award for Best Latin Pop Album.
Avataar, featuring Sudbury's Sundar Viswanathan, winner of the 2022 Juno Award for Jazz Album of the Year (Group).
Caity Gyorgy, a sensational vocalist who is the winner of the 2022 Juno Award for Vocal Jazz Album of the Year.
Rich Brown & the New Abeng Quartet, a fusion band with jazz-funk and jazz rock influences.
ES:MO, the jazz duo of vocalist/pianist Elizabeth Sheppard and guitarist Michael Occhipinti.
Ernesto Cervini's Turboprop, a Juno-award-winning jazz band.
Tevet Sela with John Roney, a Montreal-based saxophonist, blending bop, blues and Middle Eastern influences
Tio Chorinho, Canada's first ensemble dedicated to Brazilian choro music, a blend of traditional and Afro-Brazilian jazz.
After the mainstage acts in La Grande Salle, there will be additional concerts in Studio Desjardins of Place Des Arts, including:
Harvey King and the Grindstone, a Sudbury group that combines jazz, soul, and rock and roll.
The Heavyweights Brass Band, some of the coolest, brashest young brass instrument players in Canada.
Soul Stew, a Toronto band performing jazz, blues, and soul.
JAZZ WALK, SATURDAY AFTERNOON JAZZ & OPEN JAM SESSION
This year's Jazz Sudbury Festival will also see the return of the downtown Jazz Walk, with the Nickel City Dixie Stompers leading a New Orleans-style jazz parade from the Alibi Room to Oscar's Grill and 84 Station. The Jazz Walk concerts are free of charge and start at 12pm.
The Zack Martel Trio, 12:15pm @ The Alibi Room
Sundar Viswanathan Workshop, 1pm @ Place des Arts, Studio Desjardins
The Tony Simpkin Trio, 2:30pm @ Oscar's Grill
The Sarah Craig Trio, 4:15pm @ 84 Station
Open Jam Session, 11pm @ The Laughing Buddha
AFTER PARTIES
Jazz Sudbury is also introducing different ticketing options, including nightly concert passes, limited edition passes, and all-access passes. In addition to the nightly concerts, there will be after-concert performances in the Studio Desjardins at Places Des Arts, as well as daytime concerts at various clubs in the downtown.
"This should be an amazing festival this year," adds Simão. We want to thank our core audience for staying with us, and we really hope to grow the festival thanks to this new partnership with Place Des Arts. Live jazz is an amazing experience, and we hope people will come out to see these incredible performers."
Jazz Sudbury gratefully thanks its funding partners and supporters, including the City of Greater Sudbury, FACTOR CANADA, OAC, Le Loup & Le Voyageur, CKLU, Radisson Hotel, Aaron Taxi, Journal Printing, Baker Tilly, Long & McQuade, Yamaha & 50 Carleton.
MEDIA CONTACT
Louis Simão, Festival Director
416 532 8209
louis@jazzsudbury.ca
ABOUT JAZZ SUDBURY
Jazz Sudbury is a charitable not-for-profit organization dedicated to inspiring appreciation for the colourful and diverse form of live music and by presenting the industry's best in jazz, blues and world music through a festival, performances, and workshops.